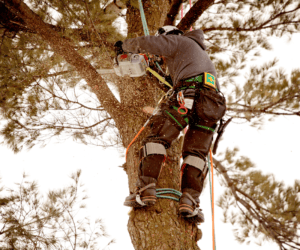 We get asked often 'what is the cheapest time of year to have a tree cut down?' The cost of removing a tree in Oregon can vary based on many things. And one of the main factors is the time of year in which the tree is removed.
The short answer: tree removal typically costs much less during the winter or spring months, making it the best time for removal. Below we'll explain why winter or early spring is the cheapest time of year for tree removal, as well as other things to watch out for and consider as you seek estimates from top arborists near you in Oregon.
Costs For Cutting Down A Tree Can Vary On A Company's Workload
Supply and demand often plays a big role for many leading tree service company's pricing. The need for tree removal is typically lower during winter and spring, so the best tree companies may offer lower rates to ensure steady business.
February and March have been statistically the cheaper months for tree removal—otherwise known as "dormant season" for trees. This is when the leaves have fallen and trees are easier to clear.
Cutting a tree down during these months is also advantageous for the environment. The colder ground means the surrounding earth is less impacted while a top Oregon tree service handles the tree removal. Frozen ground can keep the nearby vegetation in place during the extraction.
On the other hand, top tree companies can get super busy during late spring and summer; i.e., the stormy or windy months. This is when places may need emergency services which will also impact the pricing.
Watch Out For Super Low Bids For Tree Removals
Most reputable tree companies who have tree experts working for them in Oregon have licenses and modern equipment to maintain; so, if rates are suspiciously and noticeably low, we advise caution: it could mean the company is skipping costs in an important area so that they can offer the best price for cutting down a tree. But the lowest cost is not always the best cost no matter what time of year it is.
Call The Leading Arborists at Urban Forest Pros for Tree Removal in Oregon
Despite "busy" or "dormant" seasons, you can get trees removed at any time of the year. It just may impact the cost.
If you do have trees that need removal, the top certified arborists here at Urban Forest Pro can offer not only competitive rates but also an unparalleled level of professional, safe, and efficient work.
Call the tree experts at our Portland Oregon office at 503-226-7143 for a free estimate.