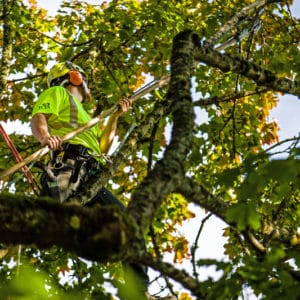 At Urban Forest Pro, we're proud to call the Pacific Northwest home. From our office in Portland, Oregon, to wherever our ISA-certified arborists are called to action, we get a front-row seat to dazzling seasonal displays, as both the region and its much-lauded urban canopy continue to grow.
A thriving metro area means there's a lot of work to be done to meet the needs of new residents while maintaining that celebrated urban-forest feel. Commercial developers and homebuilders know where to turn for affordable, reliable and professional tree service.
Urban Forest Pro
Why partner with Urban Forest Pro? Not only are we one of Portland's official "Local Tree Care Providers," we go above and beyond to bring our full slate of tree services to you. Urban Forest Pro has the experience, knowledge, and expertise to deliver results that will exceed your expectations.
Homebuilders and commercial development companies in and around Portland partner with us for reliable, affordable, full-service tree care. From pruning and cutting to complete tree removal — and everything in between — Urban Forest Pro is the region's best.
We even make it easy to keep up with any changes in local laws and regulations. As just one example among many, the Portland City Council recently updated its tree code. As one of the city's recognized tree-care providers, we know the ins and outs of these new mandates. So homebuilders can trust us to serve both their interests and the interests of the broader community.
Contact Urban Forest Pro today to see why partnering with us means you're working with the best. Fully licensed, bonded and insured — and with a staff made up only of certified arborists — there's no commercial or homebuilding project that's beyond the scope of our tree-service experts.