It's fall, and seasonal delights abound. Here at Urban Forest Pro, we're making autumn stellar with wood chip donations. If you've ever wondered what happens to all the wood chips from our pruning and Portland tree removal services, now you know. We donate them to farms and events. For instance, Urban Forest Pro was able to provide all of the wood chips for this year's Sauvie Island Pumpkin Patch and Corn Maze. We are also delighted that the Pumpkin Patch was able to donate these chips to a local farm, Kruger's Farm Market, who in turn used them to help compost their plant waste materials.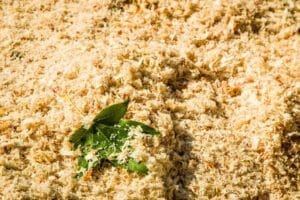 The circle of life continues, and this year we are happy to contribute to this process while helping local communities at the same time. Let's take a look at how we recycle wood chips, and how they benefit local ecosystems.
Nothing is wasted. When we remove a tree from a residential or commercial property, nothing is wasted. Usable timber is milled into lumber. Chips are used as mulch, and to combat invasive species. They also come in handy for rebuilding native habitats. Moreover, because wood chips are rich in carbon, farmers can use wood chips as a compost base for their compost. Healthy compost requires both carbon and nitrogen. We provide the carbon, in the form of wood chips, and farmers contribute plenty of leafy, nitrogen-rich greens.
Wood chips and nitrogen. It is true that wood chips and sawdust will deplete the soil of nitrogen, especially if mixed into soil that is used to grow nitrogen-hungry plants. But when the opposite occurs—when nitrogen is mixed in along with carbon—the result is a dark, loamy compost that provides many benefits to the soil and to plant health in general.
Compost happens. Compost happens, but it occurs slowly over time, especially in the cold, wet weather that we have here in Portland. It takes time for wood chips to decompose. If sawdust is used, the carbon-to-nitrogen ratio can be as high as 500 to 1. Ideally, the carbon-to-nitrogen ratio should be closer to 25 to 1. One thing farmers can do to facilitate this ratio is to include alfalfa meal. Alfalfa meal contains an almost perfect ratio of carbon to nitrogen and will help balance the soil and stabilize the composting process. Of course, if you have sawdust you can use it as material for walkways for a year while it decomposes. Alternatively, chips may be used as mulch, and then mixed into the ground after 1 to 2 years.
The Sauvie Island Pumpkin Patch Corn Maze 2014. As we mentioned at the onset, this year we were happy to contribute to the composting cycle on a commercial scale. First, we delivered chips that we had on hand from tree trimming to the Sauvie Island Pumpkin Patch. The chips were used for walkways and paths. After the Corn Maze was taken down, the chips and corn hops were collected and delivered to Kruger's Farm Market, a local farm and market on Sauvie Island. (They also sell produce at several stands around town, including a tent you may have spotted on SE Hawthorne.) Since the chips and the corn material contained plenty of carbon, they were perfect for farmers, who had a lot of green material following the fall harvest. As of now, all that carbon and nitrogen are beginning to intermingle and break down. The result will be very valuable indeed for the farmers—and locavores!—come spring, as plants thrive.