It's something you hope never happens, but in a city and area renowned for its trees, sooner or later a tree may fall on your house. What you do next in the pursuit of emergency tree service is crucial. In order of importance, here are the 5 things to do if a tree ever falls on your house.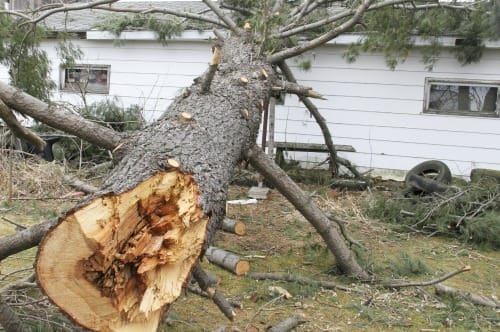 1. If the area has foot or road traffic, rope off or block off the area to limit the risk of someone getting injured by the hazardous tree. Whatever you have on hand is better than nothing. This terrible situation is only made worse by someone getting hurt on your property. Also think about putting a sign on the doors inside your home to prevent anyone from forgetting and using the affected exits.
2. From a distance observe if your power lines are involved. If they are it might be advisable to either turn off your power or at least unplug any expensive electronics. Most modern electronics are surge protected now so this is less of a factor but it is still something to consider. You might want to call the power company as well to alert them to the issue.
3. Take a few pictures from a safe distance with your phone. If the tree service company you contact can see the whole tree in the frame that is much more effective then something close up.
4. Call a local tree service that provides emergency tree service. The company will likely ask you for the photos so they can assess the situation. Tree services that provide emergency service should be able to dispatch someone to examine the damage in about thirty minutes. Once that person arrives they should be able to dispatch a crew in approximately another thirty minutes, even on the weekend or holidays. Sometimes extreme weather causes these times to increase. Speed is an important factor in limiting water damage to the interior of your home in our rainy climate.
There is no need to get an estimate for the emergency tree service work to be performed as tree service companies who routinely deal with these sorts of calls will usually bill your insurance company directly at an hourly rate. This is preferred as they take on the liability for collecting their fee from the insurance company and only require your cooperation in providing information to the insurance company.
Companies who don't handle it this way might give you a bid which you decide to accept. However, when your insurance agency only agrees to pay a portion of the invoice, that same tree service company is nowhere to be found. Now you're left with the difficult work of trying to recoup your funds.
5. Call your homeowners insurance and open a claim. There is no reason to avoid doing this because homeowner's insurance rates are not affected by this type of claim. Additionally, this type of emergency tree service work is very dangerous and thus very expensive. You will need to get the following information from your insurance company:
Claim number
Your adjuster's name, phone number, and email.
Having a tree fall on your house can be a traumatic event. Following these steps can help mitigate the damage caused in both the short-term and long-term. If you have any questions, either before or after a tree falls on your house, feel free to call us at 503-543-1391 and press 9.