Jump to: How to Prepare Your Trees For Winter, How to Protect Trees From Winter, Should You Trim Trees in the Winter?, Preventing Property Damage in the Winter, Contact
Winter tree care goes hand in hand with fall tree care in Portland, Oregon. As Portland certified arborists, we start looking for signs of spring after the winter holidays have passed. Even in January, smackdab in the middle of winter, you can find clues that spring is on its way. Buds on many deciduous plants are swelling, storing energy for upcoming blossoms. Witch hazel is blooming, as are some plum trees. And dry days allow gardeners to get outside and plan for the approaching growing season. January is also the perfect time to check for tree damage. Read on to learn tasks Portland homeowners can do to keep their trees healthy this month.
In January, the lack of leaves facilitates tree checkups. Checking the health of your trees during the winter is extremely important. To assess tree health, choose a dry day to walk around and examine trees from every angle. Winter conditions can lead to tree damage. Frost cracking damage can occur on the trees' southwest side, where winter sunlight causes wide temperature swings. Early winter frosts can kill autumn growth; frost ice crystals burst cell walls at the tips of branches. Dry, cold conditions can cause winter drought, in which the tree cannot pull enough moisture from the frozen ground. Rodents desperate for food at this time of year may chew on bark or cones. And of course, branches may break in high winds, ice storms, and snow. Protecting your fruit trees is also important. Winter tree spraying in Portland is a great way to protect your fruit trees from being vulnerable to insects and diseases.
How to Prepare Your Trees For Winter
Think of winter tree care as the Four P's.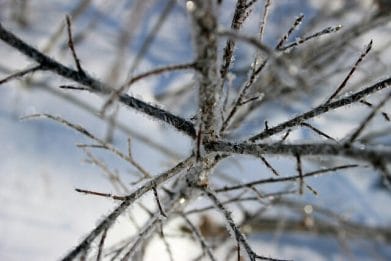 Other ways homeowners can prepare trees for winter is by adding a thin layer of mulch to protect the soil and the roots much like a blanket. Too much mulch, or improperly placed mulch, however, will suffocate plants while inviting pests such as rodents. It is also a good time to remove stakes, inspect growth, and re-stake if needed. The winter months are a great time to tackle weeds. This may also be a good time for general cleanup, especially after stormy weather has left branches strewn about your yard. If you detected problems in the previous grow season, you may also want to consider testing your soil.
Fruit trees often require additional care and maintenance. The general goal is to promote the growth of the fruiting body and ultimately obtain a bountiful harvest at the end of the next growing season. Toward this end, fruit trees require a proper balance and supply of nutrients, and they should also be monitored for pests, and treated if needed. Depending on the situation, a variety of organic and integrated pest management (IMP) solutions are available that reduce the need for potentially toxic chemicals. An ISA certified arborist that is knowledgeable about fruit tree care can prepare your fruit trees for next year's harvest.
How to Protect Trees From Winter
Here's how homeowners can protect their trees in winter, they can start with having a tree assessment done by an Urban Forest Pro certified arborist. The winter months are an important part of a tree's life cycle. Although deciduous trees lack leaves and apparent vitality during the winter, this dormant period actually serves an important purpose—namely the renewal of vital energy reserves for the following year's growth. The natural winter dormancy of many trees, as well as the improved visibility when leaves are gone, makes winter a good time for pruning and other maintenance tasks. Homeowners can conduct a preliminary appraisal of tree health by walking their properties and checking for:
Consistent Bark texture and coloration. Bumps, growths, dark spots, sap trails, and white or yellow tinges can all signify tree sickness. Peeling bark may indicate an underlying dead layer of tissue, and is a sign that you should contact a certified arborist for assistance.
Decay fungus. Have you noticed circular fungi growing outward on your trees? This formation is called a conch; it is a woody mushroom that signifies that there is decay inside the tree. You may also find decay fungi growing on the ground immediately below a tree. In either case, call us. Our arborists can track down the decay and suggest appropriate responses.
Strong Joints. A tree joint is the place where a branch meets the trunk. Keep an eye out for cracks in the joints; weakness in joints often precipitates falling limbs. This is especially key for multiple-stem trees with more than one leader. A narrow angle of connection between adjacent branches, with a crack extending below the joint, is especially indicative of a weak joint. It's better to take care of any joint weaknesses early, so that you still have the option to thin the tree or add a support cable (rather than cut the whole tree down because it is so unstable and likely to fall in a storm).
Sprouts. If a tree is in distress, it will often put out new sprouts at the trunk base, or from wounds. An arborist should be called in to detect what is stressing a sprouting tree.
Cracks and Splits anywhere in a tree suggest weakness. Moreover, these indentations allow moisture into the tree, which can eventually lead to rot.
Dead branches, which could come crashing down in high winds and otherwise stormy conditions.
Once your assessment is done, consider adding mulch as protection. Create a ring of wood chips, at a depth of 2-4 inches, extending in a two foot radius away from the base of the tree, leaving a slight mulch-free gap around the trunk. Mulch helps prevent soil compaction and root suffocation.
Should You Trim Trees in the Winter?
We do not recommend that homeowners attempt to prune or trim trees in the winter. The idea behind regular pruning is to promote the development of a healthy branch structure, and to remove any limbs that have been damaged or show disease. Crossing branches, and branches that are too close together can be removed. However, it is not recommended that you trim the tree yourself because if a cut is made improperly, it will not heal and ultimately cause damage to the tree, or invite disease. It can also be tricky to predict how a pruning cut will affect future growth. While we understand your desire to clean up after storms, improper pruning can cause significant damage. As Paul Ries, Oregon Department of Forestry urban forester explains, "It's often the case that more trees become damaged as a result of improper post-storm activities, than were damaged directly by a storm." Correct pruning can improve tree health; incorrect pruning breeds tree disease. Contact a professional for any pruning concerns you may have. As trees are dormant in the winter month, pruning can be accomplished effectively, and with minimal damage to surrounding plants (which are also dormant).
January is also part of planting season, although most gardeners will be spending this time planning for the spring. Before tree planting, Portland residents should:
Consider space availability. Ensure enough room for the mature tree's crown and root system.
Check for overhead hazards, such as utility lines. Also double check that the tree won't be growing downward into underground obstructions.
Note surrounding soil conditions. Different tree species will prefer sandy, clay-heavy, or well-drained soils.
Think about Water Availability. Will there be enough water to keep the tree healthy? Think about how you will water the tree if the spot you've chosen doesn't stay moist naturally.
Select Species According to your Goals. What functions should the tree provide? Are you looking for shade, wind protection, or an enchanting scent? Your preferences will be the main factors in tree selection.
Preventing Property Damage in the Winter
Damage from extreme winter weather can often be mitigated with proper service. Portland, Oregon's certified arborists at UFP would like to present the following signs that your trees should be serviced early in the winter, before the harshest storms hit.
Big, Heavy Trees. Trees that are big and heavy pose the greatest threat to your family and property. Heavy branches falling from a tall height can cause serious harm. When leaves, rain, or ice clings to the branches, the tree may not be able to support the additional weight. Arborists can evaluate the health and strength of a tree, and they perform any necessary trimming to lighten the load and to allow more of the winter winds to pass harmlessly through branches.
Damaged or Dead Branches need to be removed before they become falling hazards. Moreover, damaged/dead branches invite disease, which can threaten the life of the tree. Our Portland certified arborists can spot and prune away diseased/dead sections.
Windows and Lines. Unattended branches have the potential to fall on power lines at any time. Branches that brush against windows can also cause trouble, particularly in high winds. Arborists can create a safe, vegetation-free zone around the home to prevent damage and support plant growth.
Cankers. Trees with visible cankers or other disease related wounds require special care. Large cankers, and those that connect to cracks or cavities, warrant an inspection from an arborist, who can recommend the appropriate next steps.
Splits and Cracks. Check out your tree for splits where two large branches come together. Make sure there are no signs of cracking here. This situation is dangerous because the crack could break through, sending heavy limbs falling to earth. If you see this on a tree, call our arborists right away! Let us deal with it in fair weather; otherwise you'll have a real mess when the weather turns south.
Root health. Excessive flooding can put a strain on root health, but so can other factors such as sidewalks, construction damage, and parking your car on the lawn. If you notice mounds or bulging in the soil, it is probably time for an inspection by a certified arborist.
Contact the Experts of Winter Tree Care in Portland, OR
If you're considering planting a new tree, or you're concerned that your tree may be sick, contact your local Portland arborists for expert advice. Look for experienced, established professionals. Oftentimes, "doorknockers," who go from door to door peddling tree services, lack knowledge on proper tree care. Such inexperienced, unlicensed, and uninsured Portland tree services may actually cause serious damage to your trees, through "topping" and other careless pruning approaches. At Urban Forest Pro, our arborists are fully certified and insured. We know that your trees are important to you, and also checking the health of your trees during the winter. We use the best equipment and materials in order to ensure that our job is professional and reliable. At Urban Forest Pro, you can be positive that you are truly in the hands of a qualified expert. Call us today for Portland seasonal tree maintenance services. Read our guides on fall tree care in Portland, Oregon to learn more about caring for your yard in the fall and tree care tips for spring.
See What Our Clients Have to Say
"Urban Forest Pro is my number one choice for tree services in Portland! I just had them complete their 2nd job on my property, and I must say I am absolutely blown away with the quality of work and the professionalism of the team. Everyone was communicative and knew exactly what I was looking to have done with my Maple tree in my backyard. They quoted me a great price and completed their work in a timely manner. If I ever need additional tree work at my house, I will come here again. 10/10 would recommend the team to anyone needing work done by certified arborists. Thank you again for everything!"
Kollin W.
Rating 5/5 ⭐⭐⭐⭐⭐
See our 4.8 rating and read more of our 196 reviews on Google!