It seems all home-related services—including Portland tree services—can be subject to scam. For most people, their home is their largest investment, so home contracting jobs present a sizable target for criminals. Judging from our customers' reports, there has been a recent uptick in Portland area tree trimming con jobs. According to a The Oregon Construction Contractors Board, that may be due to the improving economy—as contractor rates increase along with the economic climate, scam artists can undercut legitimate workers, fooling homeowners into thinking they're getting a great deal, when really they're being scammed. Simultaneously, scam artists avoid fees that legitimate businesses are liable for such as insurance, licensing, and professional certifications.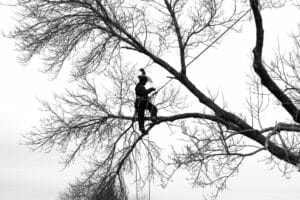 While these criminals may consider licenses a waste of money, our Portland certified arborists' membership in professional associations such as the International Society of Arborists (ISA) holds them to higher standards for professional tree care and pruning. Our trees are part of our urban forest; they are important to our quality of life. Portland's trees need care, and should be handled properly to ensure the health of our environment. Those who cheat the system pose a threat to the vitality of our urban forest, and that is something we care deeply about.
To that end, we'd like to share some schemes we're aware of, with the hope that we can help you avoid falling victim to a phony arborist.
Common Tree Service Scams in the Portland Area
Con men. These unsavory characters convince homeowners that their trees need trimming. They require half the money down on several jobs in a neighborhood. After completing the first job, these fake arborists walk away with the rest of the money. Sometimes the con artists take this further by hiring someone knowledgeable for the first job, to win services from more neighbors.
Amateur Hour. These guys are happy to sell their pruning services, but they actually lack proper training. They may charge half of what a reputable company would expect, but as a result of their pruning hack job, the tree is left worse off due to improper techniques. Down the road, uninformed pruning can lead to further damage, as the tree fails to grow correctly. Proper tree care, especially pruning, takes time. There is no way to cut corners, and anyone that says they can do it "fast and cheap" is probably trying to scam you.
No Insurance. Landscape contractors and tree care providers are required to carry liability insurance. This protects homeowners from being liable if there is an accident on their property. It also protects the contractor if they damage your property. Not carrying liability insurance is illegal in Oregon, and if someone is working on your property who does not carry it, you are at risk. An unlicensed contractor could cause expensive damage to your property, and disappear without paying for repairs.
Washington license. The rules for arborist contractors in Washington are not as strict as they are in Oregon, and Washington insurance does not typically cover work done out of state. However this does not stop contractors from crossing the Columbia River to offer their services to Portland residents. To protect your property against uninsured damage, and to guarantee quality tree services, hire a contractor with an Oregon license.
No Workmen's Comp. These unscrupulous individuals do work with no workmen's compensation insurance. They claim they were hurt on a homeowner's property, and sue for damages. We personally know of a few customers who went through this highly traumatic experience.
Protecting yourself is key! It's easy to protect yourself against Portland arborist scam jobs by being informed and asking the right questions.
Portland Arborists' Techniques for Avoiding Tree Service Scams:
Don't pay a deposit. Unless it is a big job (over $5k), or a job requiring specialty equipment such as cranes, deposits are uncommon in the tree industry. Payment is normally made after substantial completion.
Pay with your credit card, as credit card companies do extend additional protections in the case of fraud.
Request a current insurance certificate with your name on it. This is the only way to know if you are covered if something goes wrong, and most reliable tree care companies can produce this document within 1 to 2 days.
Verify ISA Arborist Certification by asking for the name of the arborist who will be doing the work, and checking their credentials at the ISA website.
Don't let yourself be the victim of crimes such as the ones mentioned here. Take time to research and verify the company doing work on your property before the work begins and you will feel much safer. You can always give us a call and rest assured that Urban Forest Pro will handle your tree care in the most professional, efficient, and safe manner possible.