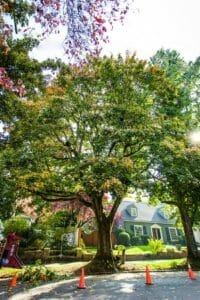 On January 2nd, a new Portland tree code referred to as "Title 11 Trees" becomes law. This plan places strict guidelines on what kind of trees can be removed and also issues guidelines for pruning heritage trees. Homeowners are required to obtain these permits, but rather than trying to deal with understanding the 15 pages of guidelines and dealing with the bureaucratic process yourself, we recommend partnering with a licensed, professional tree removal service such as Urban Forest Professionals. This is the second part of our Portland Tree Permit Series. In part 1 we looked closely at the changes that will occur with the City of Portland's Urban Forest Plan at the start of 2015.
In this post we encourage you to take care of Portland tree services, including pruning and removal, now, before the new codes take effect. We also outline what that homeowners can do this fall to prepare for winter. Getting ahead of the game now means a safer winter, with less chance of falling trees.
Fall Planting. The rains are settling in and the ground is starting to loosen up after the dry, summer months. This means its time to put the shovel in the ground and get back into the garden. Certain species, such as Hostas, Astilbes and Cranesbill geraniums, should be moved this fall, to make more room. After that, consider whether you want to move any of your shrubs. Fall planting is most recommended by arborists and horticulturalists because it gives the plant lots of time to settle in and establish new roots over the winter months.
Pruning and Removal. This is an area where professional advice is a good idea. After a long and dry summer, many shrubs and trees require pruning. It's not always easy for the average homeowner to know which plants should be trimmed in the autumn. In addition, proper tools and training are necessary for the long-term health of your trees and shrubs. A professional Portland tree removal service, such as Urban Forest Pro, will ensure that proper and safe techniques are used, and that trees and shrubs will be maintained properly, according to their yearly cycles.
Title 11. The new Title 11 legislation is strict about what kinds of trees may be removed, and how certain heritage trees must be pruned. If you have trees that are large enough to be categorized as Title 11 (i.e. trees with a diameter of or above 12"; trees that are in the right of way or are being removed for development activities; heritage trees; and trees that are in a special district or overlay such as Johnson Creek or Pleasant Valley), we recommend dealing with them now before these regulations cause more fees and delays.
Plant now. As far as planting goes, the Title 11 guidelines also include stipulations about replacing removed trees with species that will provide an equivalent amount of foliage and shade. Even without these guidelines, the value of trees to the homeowner (and city) is enormous. For instance, trees create shade, reducing your energy costs.
The rains are here and the ground is ready for planting. In addition, many plants need to be trimmed after a long summer's growth. Don't wait for winter to make these changes. Call our Portland certified arborists today to discuss what you can to do prepare for winter and for the new changes that Title 11 will bring on January 2nd, 2015.