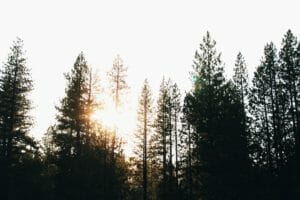 Pine trees are one of the most robust types of trees in the world. Pines can grow (and flourish) in climates where most plant life cannot. For this reason, people living in cooler climates, like Portland, OR, appreciate the evergreen color and natural beauty of a pine tree.
Oregon pine trees don't need to be pruned often, if at all. They naturally grow in a cone-like shape so unlike ornamental trees, pine trees don't generally need to be trimmed for aesthetic purposes.
When to Trim a Pine Tree?
The best time of year to prune a pine tree is in the late winter and early spring, just before new growth starts for the season. This gives the most amount of time for new growth to help conceal pruning cuts.
Reasons to Prune a Pine Tree
Since pine trees are naturally beautiful trees, they generally aren't pruned for aesthetic purposes. There 5 main reasons why someone would choose to prune their pine tree:
Remove dead, diseased or dying branches and crossing or rubbing branches
Thin for even weight, appearance, and heavy sucker growth. The goal is to open some space between limbs without making it look sparse or unbalanced
Clear structures such as houses, garages, street lights
Maintain a strong single stem. If co-dominant stems exist, they can be cabled together to support a weak branch union
Long over-extended limbs should be reduced or removed to prevent breaking
How to Prune Effectively
Pruning should use cuts back to lateral branches or just outside the bulge of the branch collar back to the trunk. Never remove more than 25% of live growth in one season or you can cause damage to the tree.
What Our Clients Have to Say
"Super happy with their service! They came out and provided a free quote and were easy to schedule a time with. We needed some pretty significant tree trimming done to a tree in our backyard. The crew that came onsite did a fantastic job. They took great care with where all of the branches were falling as to not damage our shed, the neighbors shed, our fence and a variety of other obstacles right beneath the tree, which with a tree that tall and branches that heavy, seemed like no easy task. I had them take as much of the tree back as they could and they did so while still maintaining the aesthetics as is it very visible to us and our neighbors. Overall, super impressed!"
Rating: 5/5 ⭐⭐⭐⭐⭐
Jessica McDougall
May 20, 2019
Read more reviews on Google!
Call for Help
The most important tip for all homeowners is to know when to call in a professional. Trimming a pine tree can be difficult due to their size and fullness. If you have a large pine tree in your yard that you want pruned and you live in the Portland OR area, call Urban Forest Pro today for a free estimate! Let us do the work for you.