Vancouver, Washington has changed significantly in recent years. Trees are everywhere, with parks galore. With the new downtown Vancouver waterfront, people of all kinds are flocking to Vancouver to get outside, breathe, and take in the beauty and fresh air that the Pacific Northwest has to offer. The variety of trees in this area draws people time and time again.
However, trees will need to be pruned, trimmed, and sometimes even removed. That's where our experienced team of professional arborists at Urban Forest Pros can help, day or night. All of our arborists are ISA certified. We proudly offer a variety of tree-related services!
Tree Removal Near You in Vancouver, WA
Whether it's disease, storm or pest damage, or something else, trees may need to be removed from time to time. Here at Urban Forest Pro we are licensed and trained to remove trees of all sizes. Our arborists will determine the extent and scope of the job and let you know what the best course of action is. It is very important to have a trained crew of professional arborists remove your tree, as it can be dangerous not just for you, but for your property and surrounding areas. Urban Forest Pro offers free estimates, so contact us today for information on your tree removal.
Experienced Tree Pruning Services
Trees need to be pruned to look great and stay healthy. Our certified arborists are well-versed in a variety of tree pruning methods. During your free estimate appointment, we will look at the tree closely and discuss what needs to be done, then provide our best recommendations. Maybe it's a full prune or just some thinning that needs to take place. Whatever it is, we know the details for pruning your tree to keep it strong, beautiful, and healthy.
Helping You With Tree Permits in Vancouver, WA
If you plan on removing a tree, you will need to obtain the proper permit. Urban Forest Pros can help you with the process of getting the required Vancouver, WA tree permits. Let us know if you need one during your appointment for a free tree removal estimate. It's important to get the right permits, so you don't run into hefty fines later down the road.
Tree Hazard Correction Services
Trees can get big and beautiful, but sometimes they can become a hazard if not properly cared for. Maybe it is a limb that has started to break off or a diseased tree that is starting to weaken at the roots – trees like these need to be assessed by a certified team of arborists to ensure that the hazard is corrected right away. If damage or injury occurs because of a tree, you could be liable, so contact us today to schedule an assessment appointment.
Tree Cabling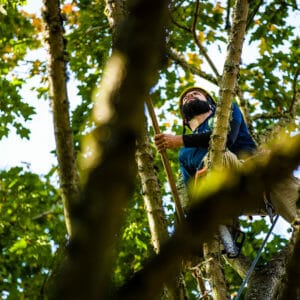 Tree cabling isn't just a Vancouver, WA thing – it's a common method used when either the tree limbs or branches need a little extra support. It's also used when the removal of limbs could create additional problems or when such removal isn't desired by the homeowner. It can also be used to limit damage to tree limbs from storms or prevent limb failure. Urban Forest Pro can help with tree cabling, so be sure you contact us for an appointment so we can provide options that are specific to your situation.
Contact Our Experienced Vancouver Washington Arborists Near You
Taking care of the trees on your property is important. So, whether it's pruning, planting, stump grinding, or something else, our comprehensive service offerings are sure to benefit you! We are one of the premier tree service companies serving the Vancouver area today. Please call us today at 503-226-7143 to schedule your free estimate.
Check out what Anton had to say about us on Google.
"Great experience working with Urban forest team on removal of trees in my front yard. Arborist was super cool and professional in estimating the costs and assessing the needs of removal. Then project manager – Sharon was amazing throughout the entire journey. Noah and his crew cut the tree quickly and cleaned everything up ideally. Then the next day Keith came with the stump grinder and made everything look in a way that I never had trees there. Fantastic experience. Can't recommend enough."
5/5 ⭐⭐⭐⭐⭐
And read more of our 194+ reviews on Google.
Check out our Angies List reviews.
Other Local Services in Vancouver, WA:
Landscaping

Brandon Landscaping
13516 NE 28th St,
Vancouver, WA
98682
(360) 213-9111
http://brandonlandscapingvancouver.com/

Boulder Falls Landscape
15504 NE 62nd St,
Vancouver, WA
98682
(360) 558-3738
https:// boulderfallsinc.com/

Frontier Landscaping
11402 NE St Johns Rd,
Vancouver, WA
98686
(360) 574-8979
https:// frontierlandscaping.com/

Nurseries & Garden Centers

Shorty's Garden Center
10006 SE Mill Plain Blvd,
Vancouver, WA
98664
(360) 892-7880
http:// www.shortysgardencenter.com/

Yard 'n Garden Land Inc
1501 NE 102nd St,
Vancouver, WA
98686
(360) 573-7172
http://www.yardngardenland.com/

Garden Center at The Home Depot
8601 NE Andresen Rd,
Vancouver, WA
98665
(360) 253-3993
https://www.homedepot.com/l/Vancouver-WA/WA/Vancouver/98665/4718

Lawn Maintenance

Russ's Lawn Maintenance, Inc
5114 NE 18th Ave,
Vancouver, WA
98663
(360) 513-1207
https://russs-lawn-maintenance-inc.business.site/

J's Custom Landscaping, Inc
6114 NE 131st Ave,
Vancouver, WA
98682
(360) 521-1479
http://www.jscustomlandscaping.com/

Pool Companies

Char El Pool & Spa LLC
Vancouver, WA
98661
(360) 256-4435

Edgetree Pool
13805 NW 10th Ct,
Vancouver, WA
98685
(360) 573-9808

Home Insurance

American Family Insurance
8720 NE Centerpointe Dr #209,
Vancouver, WA
98665
(360) 952-3773
https://www.amfam.com/insurance

Rainwater Agency-Insurance Specialists
2700 NE Andresen Rd, Ste #A2,
Vancouver, WA
98661
(360) 944-7600
http://www.rainwaterinsuranceagency.com/

Applied Team Insurance
7720 NE Vancouver Mall Dr #110,
Vancouver, WA
98662
(360) 726-6092
https:// appliedteamins.com/