Oregon City is serious about its trees. It's for good reason—trees not only provide environmental benefits, but they also calm traffic and improve home value. So for tree removal and tree pruning, they have a lot of regulations to make sure trees are properly cared for.
For these services, we recommend using certified arborists—tree professionals who know how to remove and prune trees without causing harm to the property or surrounding trees.
Call Urban Forest Pro at 503-226-7143 for a free estimate.
Tree Removal Services in Oregon City
Certain reasons for tree removal are:
Dead or rapidly decaying trees
Crowding or causing harm to surrounding trees
Posing a mobility hazard to pedestrians or traffic
In these cases, our team can help determine whether removal is necessary; if so, we can complete the job safely and efficiently, without causing any damage to the surrounding people or property.
Pruning Trees in Oregon City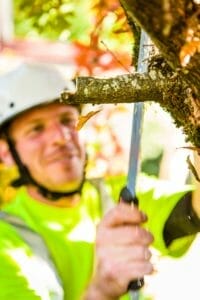 In Oregon City, property owners are responsible for maintaining their trees. If you're handy, much of the minor pruning can be done yourself. However, for major pruning, we highly recommend contracting certified arborists.
We believe it's better to not prune at all than to prune incorrectly, as that can cause more damage than pests or insects. It can also be dangerous to you and your property. Our team knows how to keep the tree's natural shape as well as which spots to prune to ensure healthy and continued growth.
Trust Certified Professionals for Tree Care Services
Our team at Urban Forest Pro are certified arborists and have been serving Oregon City for over 15 years. Most importantly, we take care of your property as if it were our own.
We are fully insured and bonded by the State of Oregon. We offer competitive rates and guarantee safe and efficient service.
Call our office at 503-226-7143 for a free estimate.
Other Local Services in Oregon City:
Landscaping

Fiesta Landscape, LLC
AV Davis Rd,
Oregon City, OR
97045
(503) 757-5829
https://www.fiestalandscape.com/

Benchmark Landscape LLC
19401 McDowell Ln,
Oregon City, OR
97045
(503) 722-3989
https://www.facebook.com/Benchmark-Landscape-LLC-
280822641969769

Organic Landscape Solutions – Peter Haralabatos
11405 S South End Ct,
Oregon City, OR
97045
(503) 816-3060
http://organicls.com/

Nurseries & Garden Centers

Serres Farms, Garden Center and Produce Store
14620 Forsythe Rd #9497,
Oregon City, OR
97045
(503) 655-0938
http://www.serresgreenhouseandfarm.com/

Karam Nursery
15028 S Redland Rd,
Oregon City, OR
97045
(503) 631-7200
http://karamnursery.com/

Fred Meyer Garden Center
1839 Molalla Ave,
Oregon City, OR
97045
(503) 656-6226
http://www.fredmeyer.com/

Lawn Maintenance

Green Wood Landscape Maintenance
775 Cascade St,
Oregon City, OR
97045
(971) 201-9413

StandAlone Lawn Care
14625 Blue Blossom Way,
Oregon City, OR
97045
(503) 915-8787
http://standalonelawncare.com/

Pool Companies

Blue Mountain Pools
13121 S Warnock Rd,
Oregon City, OR
97045
(503) 760-4554
http:// www.bluemountainpools.com/

Aqua Inground Pools LLC
16429 Oak Valley Dr,
Oregon City, OR
97045
(503) 703-7252

Algreco Pool & Spa Inc
22135 S Beavercreek Rd,
Beavercreek, OR
97004
(503) 632-3381

Home Insurance

Simmons & Associates Insurance
502 7th St #205,
Oregon City, OR
97045
(503) 768-9706
http:// simmons-ins.com/

Brian Nogueira – State Farm Insurance Agent
1115 Molalla Ave,
Oregon City, OR
97045
(503) 655-3433
http://www.briannogueira.com/

Agape Insurance
19652 S McCord Rd,
Oregon City, OR
97045
(503) 650-4325
http://www.agapeinsurance.net/

Allstate
912 Molalla Ave,
Oregon City, OR
97045
https://myaccountrwd.allstate.com/