Known perhaps as much for Washington Square as much as anything else, the people of Tigard will tell you what we here at Urban Forest Pros know – it's a beautiful city full of trees. It may not be as old as Portland, but settlers from the east arrived in Tigard over 160 years ago. That's a long time and as such, there's been a lot of trees planted.
Urban Forest Professionals haven't been around that long. But if you are in the need of Tigard tree services and you want a trained, ISA-Certified arborist who actually knows what they're doing, the list of places you should call is pretty short. And the first name? Us.
Whether you need to remove a hazardous tree, cabling a tree that needs a little extra support, or pruning a tree either for safety or asthetic reasons, you can't go wrong by calling your nearby local arborist. We're an established Tigard tree services company and we've got your back.
Tree Removal in Tigard, Oregon Near You
In all honesty, Tigard may not be known for a lot of things, but the people who live here know it's got a lot going for it. Quiet city streets, lots of parks, and a slower pace of life than its sister city Portland.
But Tigard is subject to the same weather patterns and storms that accost the entire metro area. When a big storm comes in and starts blowing hard, Tigard trees are affected just the same as other cities.
If you need a tree removal in Tigard, there can be a lot of reasons for it, like:
Wind damage
Storm damage
Invasive roots
Disease
Conflist with neighbors
Instability and potential hazard
And these are just a few of the many possible reasons why you could be in need of a qualified arborist near you.
Although we love trees here at UFP, we love people being safe and living their lives more. Unfortunately, every year people die because they try to save a few dollars. They take on a tree removal project that may look not that difficult and get in over their head.
What should they have done? Call a certified arborist. Not only are certified arborists, like the ones at Urban Forest Professionals, trained to remove trees in the safest way possible, they are fully aware of other options, such as tree cabling.
Yes, sometimes, trees in Tigard need to be removed. When that happens, give the pros at Urban Forest Professionals a call. The best thing – we offer free estimates.
See What Our Clients Have To Say About Us:
"This is our second time using Urban Forest Pro and we will use them for all our projects. They are aptly named! They are professionals from start to finish. The bid, the permitting, the scheduling and of course the actual job all run smoothly. They are also incredibly nice on the phone and in person!"
Jill C.
Rating 5/5 ⭐⭐⭐⭐⭐
And read more of our 191+ reviews on Google.
Tigard Tree Pruning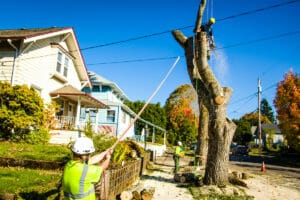 If you've got trees in Tigard, sooner or later you're going to need to prune them. Maybe it's to encourage the tree's growth, maybe it's for aesthetic reasons, maybe because you know that by having well-groomed trees your property value can increase. The first step? Call the professionals at Urban Forest Pros for all your tree pruning needs in Tigard, OR.
Fruit trees, ornamental trees, evergreen, deciduous, fir, oak, cedar – you name it we can prune it. Here's the secret – pruning is a skill that takes knowledge and experience. Simply hacking away at a tree can damage it more than you realize. Inexperienced tree service workers, although calling themselves professionals, have often done extensive damage to trees.
If this has happened to your tree, you're in luck. The certified arborists at Urban Forest Pros can not only prune your trees in Tigard, they also have experience in halting and even reversing the damage done by other, less experienced tree workers.
Call us today to schedule your free estimate in for your Tigard tree pruning needs.
Tigard Tree Permits
It's a common reaction – why do I need a permit to remove a tree on my Tigard, OR property?
Unfortunately, tree permits are the rule of the land across much of the Portland area and Tigard is no exception. The rules are not as simple as "yes" or "no" so if you're looking to remove a tree from your property, you should take a look at the Tigard City Hall's urban forestry page.
They'll walk you through the steps required to remove a tree from your property.
However, keep in mind that if you work with us at Urban Forest Pros, we'll walk you through the process of getting the relevant permits. One caveat – you need to request this service from us. If you do not, we will assume that you have secured the required permits.
If you have any questions, do not hesitate to call us. Also, take a look at the Tigard tree permit webpage as well.
Tigard, OR Tree Hazard Correction
Although Tigard may not have as many old city trees as Portland, it is a beautiful area with many beautiful trees. And with big beautiful trees comes the inevitable – a tree growing in a way it shouldn't. Maybe a limb is hanging too far over a living area or the sidewalk. The issue for the property owner is a liability.
If a tree hazard isn't corrected then the property owner can be held liable for any damages that result when the tree limbs, or the tree itself, causes damage to property or people. The worst part – most of these issues are preventable.
How? By contacting a reliable tree service company near you and having one of their certified arborists come out and issue a certified arborist report. Like, for example, Urban Forest Pros does. Our free estimates make it simple for you. Our Tigard-area arborists look at the situation and can recommend not only tree removal but a variety of other solutions depending on the situation: pruning, cabling, or other services that can fix the problem.
But the first step is calling Urban Forest Pros at 503-226-7143. We'll set up a time to discuss your Tigard tree hazard correction concerns.
Tigard Tree Services Near You
Urban Forest Pros have been working hard for the people of Tigard for more than 15 years now. We offer a wide range of Tigard tree services, from tree removal to tree cabling, tree pruning, organic pest control, deep root fertilization, stump grinding, certified arborist reports and many other services. We are the company to call when you need tree services in Tigard. Our number is 503-226-7143 – call us today for your free estimate.