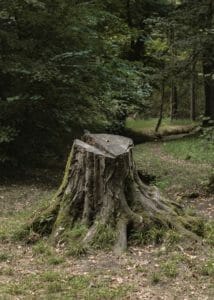 How to get rid of tree stumps is a frequently asked question in the industry. Once you've had a tree removed you're left with a typically unsightly reminder, the stump. Tree stumps are an eyesore, a tripping hazard, and they can attract unwanted pests like termites or even fungi and bacteria. If left to simply decay and rot away on its own, without any sort of treatment, a stump can take up to ten years to disappear. When it comes to rotting a tree stump in Oregon, the rate of decay depends on many different factors such as species of tree, size of the tree, and the climate and weather conditions. 
At Urban Forest Pro, your leading Oregon arborist, we do stump grinding in the Portland and surrounding area, although due to demand we do have to limit our grinding services and can only offer it to current tree service clients and not as a standalone service. 
To remove a tree stump you can try to tackle the job yourself, although stump grinders are quite heavy and can be difficult to use at times. So how do you get rid of a tree stump then? What is the best way? Well, the answer is in the original suggestion of letting it rot away, but doing so quickly.
How To Get Rid Of A Tree Stump Fast?
The fastest way to remove a tree stump, without using a grinder, is the chemical method. By applying chemicals to holes drilled into the stump, you speed up the natural decay process and the remaining tree fibers and roots will break down more quickly. It is considered one of the best ways to remove a tree stump from your yard. Here's how to use this method by following these steps.
DIY Steps To Rotting A Tree Stump From A Leading Arborist:
Begin on a dry day or after a number of dry days if possible. This way the tree stump will be looking for liquid and nutrients and will soak up the chemicals faster. 

If you are capable, use a chainsaw to cut the remaining part of the tree as close to the ground as possible. By doing this the chemicals will have less material to eat through. Chainsaws can be dangerous though, so make sure you always use caution, wear steel-toed boots and eye protection. 

Once the tree stump is as close to the ground as you can comfortably get it to go, drill a number of holes into the top of the stump and along the sides in a downward direction. The bigger the drill bit the better, and each of the holes should be a few inches deep. 

After drilling the holes into the stump, you will apply the chemicals that will break down the remaining wood. Oregon does have strict legal restrictions about the kind of chemicals you can purchase for this sort of project. Ideally, you would want a commercial fertilizer that is high in nitrogen, since it will give you the fastest results, but cow manure is also effective. Another more natural alternative is Epsom salt. It is also a cost-effective solution as a 19lbs page starts at $10. It has similar dissolving properties to nitrogen but is a more organic approach. When you have chosen the chemical you will use, pack the holes with as much of it as you can. 

Then soak the ground around the stump and wet the top and sides of the stump. After the stump is wet, cover it with a plastic tarp to trap the moisture around the stump. Moisture is ultimately what will help the chemicals break down the wood particles faster. 

The next step is to apply mulch over the top of the plastic tarp. Organic mulch, like hay or tree bark, is best for this task as it will retain more moisture and help to keep the tarp in place. 

You can use rocks and stones to weigh down the tarp further to help keep it in place, although this step is considered optional. 
Once you have completed all of these steps, you are officially rotting a tree stump. This process is a speeding up of nature, and we all know that nature can take its time, so you should expect that it will take some time to work. How can you speed up the stump rot process even more? You can repeat the rotting steps periodically if you notice the mulch has grown dry.
How Much Does It Cost To Remove A Stump?
The cost for stump removal is largely dependant on the method you choose to use. If you chose to do it yourself, it would be the cost of materials needed. Whereas, if you live in the nearby Portland area, with easy access to the stump, the average cost is about $6 per inch in diameter with $150-$200 minimum charge.
Looking To Remove a Tree Stump Quickly?
Ultimately, the quickest way to remove your tree stump and return your yard to a flat surface is the method of stump grinding. Although our grinding services are limited, if you are in need of a tree removal service in the Portland, OR area, or if you are looking to get some stumps removed don't hesitate to contact the tree experts at Urban Forest Pro today. The best-certified arborist in Oregon.
What Our Clients Have to Say
"I was very pleased with the work done by Urban Forest Pro. The three young men that came out to cut and clean had a great attitude and were very pleasant to deal with. I would whole heatedly recommend this company. They offer quality of work for a very good price."
Jean Y.
Rating: 5/5 ⭐⭐⭐⭐⭐
See our 4.8 rating and read more of our 194 reviews on Google!