Neighborhoods in parts of Lake Oswego date back to the 1800's, which means some of the trees do as well. Although parts are newer, the city has beautiful old trees in all except the newest developed areas. Trees are just like everything else – with age comes the requirement for upkeep. When people need a tree service in Lake Oswego, they turn to Urban Forest Professionals time and time again.
Tree removal, tree pruning, deep root fertilization, view enhancements – the list of our tree services near you is long and every one of them can help Lake Oswego residents make their property safer, more beautiful, or more enjoyable.
It doesn't matter if you have an upcoming project or a tree was blown down on your house last night – Urban Forest Professionals offer emergency tree service as well as service during regular hours. Along with our free estimates, each of our work crews has at least one certified arborist on location. And the other workers – they're training to become certified arborists.
Jump to: Tree Removal, Tree Trimming, Tree Permits, Contact Tree Care Lake Oswego
If you want the highest-trained, most dedicated tree service company near you for your Lake Oswego tree work, call us here at Urban Forest Professionals.  We'll schedule your free estimate quickly and easily. All of our arborists are ISA-certified. Below are just a few of the many services we offer.
Taking care of your trees in Lake Oswego is essential, given the area's unique climate. In Lake Oswego, you can enjoy short, sunny summers with warm and dry weather, and experience very cold, wet winters with overcast skies. Throughout the year, the temperature usually ranges from 36 °F to 84 °F, so you won't often see it drop below 26 °F or rise above 96 °F. The best time to take care of your trees in Lake Oswego is during the milder seasons of spring and fall when the weather is more temperate. These seasons, typically from April to June and September to October, provide optimal conditions for tree care activities like pruning, fertilizing, and inspecting your trees.
Lake Oswego Tree Removal Near You
No matter how beautiful the tree, no matter how inviting the scenery, occasionally a tree needs to be removed. Typically the tree removal is a result of wind or storm damage, or in some cases disease or accident. However, the reasons for removing a tree are varied:
Hazard due to instability
Damage from high winds
Conflict with neighbors
Court order
Invasive roots
Disease
Storm damage (ice, snow, etc.)
Whatever the reason the tree needs to be removed, always choose to work with a certified arborist. Certified arborists go through literal years of training and need to continue their education throughout their career in order to retain their certification.
Arborists like the ones at Urban Forest Professionals will be able to professionally and accurately establish the extent of the problem and lay out a recommended plan of action. While the removal of the tree is sometimes the best path, there are other services that can better achieve the homeowner's goals.
Regardless of the chosen course, we cannot recommend the homeowner "take care" of the problem on their own. While many times it can be done, people are killed every single year when attempting to perform a tree removal that was beyond their capacity. Unfortunately, they didn't realize this until it was too late.
Tree Pruning and Tree Trimming Lake Oswego, Oregon
Pruning trees is one of the things that the average layperson thinks is fairly easy, yet it is one of the things that we as professional arborists see done wrongly all too often, by both homeowners and inexperienced landscapers.
Truth is, pruning a tree incorrectly can actually damage the tree, stunt its growth and reduce its life expectancy. It's something that needs to be done for a variety of reasons:
Manage the structure of the tree
Make it look aesthetically pleasing
Improve the tree's health
Encourage or limit the tree's growth
Save damaged trees
Reduce the possibility of dead branch failure
Many other reasons
Urban Forest Professionals' certified arborists are familiar with a wide range of methods of pruning trees in order to achieve the desired results. On the agreed time and date of your free estimate, one of our certified arborists will visit the location and discuss what needs to be done.
How the pruning moves forward will depend on what actually needs to be done. Sometimes the goal is heavy thinning, and sometimes full pruning is what needs to be done. Other times the customer desires a more formal pruning in order to achieve an exact look for aesthetic reasons. Even if a tree has previously been under the shears of an inexperienced tree worker, it still might be possible to save the tree.
The first step to determine what needs to be done for tree pruning at your home is to contact a professional tree company. Urban Forest Professionals have been servicing Lake Oswego for more than 15 years and are always happy to help. Calling 503-226-7143 and scheduling the free estimate is the first step.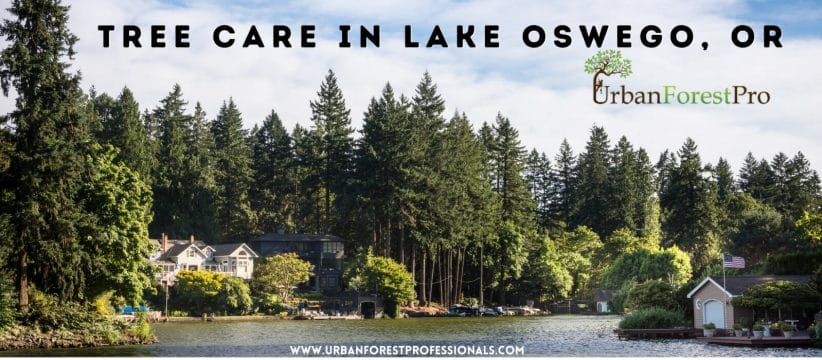 Lake Oswego Tree Permits
Like nearly every city in the US, tree permits in Lake Oswego are required before removing a tree. Some people consider it a thinly veiled attempt at raising revenue, but there is actually more to it than that.
Trees can help define the look and feel of a city. Developers and homeowners alike have to be careful to remove trees only under certain circumstances and when it is allowed. Fines can be excessive, from a few hundred dollars up to thousands or tens of thousands.
Urban Forest Professionals is happy to help you with the permit process. The one caveat – you have to notify us that you need help. If you tell us you have the permit, we're going to take you at your word. And if you do not request our assistance in the matter, we will assume that you do not need our help.
Remember – tree removal permits are generally required for Lake Oswego tree removal. To find out more, read about the City of Lake Oswego tree codes. Luckily, it is possible to apply for permits online and find out about the online permit process as well as the forms.
For more information about tree permits, call us today at 503-226-7143 and find out how we can help you with the acquisition of the correct paperwork for the work required. Also, make sure to read about the Lake Oswego tree codes and regulations and the permit process to find out more about what is required.
Tree Hazard Correction in Lake Oswego
Tree hazards occur in Lake Oswego just like all over the Pacific Northwest. A large branch leaning too far over a house, garage, or other structure. A big limb hanging over an area open to the public. Maybe it's an undiagnosed disease that slowly (or quickly) takes the strength from the tree.
Whatever the reason, getting a potential tree hazard taken care of quickly and safely is better done sooner rather than later. Property owners can be held financially and criminally liable if the tree or limb falls on a person or property of others.
Safety is a significant factor in tree removal, especially when trees pose a hazard to people, property, or utilities. Within the City of Lake Oswego, it's important to note that if you're contemplating emergency tree removal, a permit is mandatory, even for trees 6 inches in diameter or larger. This requirement extends to the removal of hazardous or emergency trees, as permits are essential to ensure that only dead, dangerous, or development-mandated trees are removed.
While a tree branch breaking and falling down in a storm could be called a natural occurrence, if the same branch was reported as a hazard before the storm took place, the owner of the property would be liable for any damage that resulted.
The point? A quick call to Urban Forest Professionals can help you sort out what may or may not be a hazard on your property. As certified arborists, our crew members are able to look at all aspects of the situation and inform the property owner if a tree or limb is actually a hazard or not.
And if it's not – then you've got a certified arborist report stating your Lake Oswego tree is just fine. Call us today at 503-226-7143 in order to schedule your free estimate.
Contact Our Nearby Tree Care Lake Oswego Arborists
Lake Oswego has been around for almost 200 years. While it has grown quite a bit in that time, it has still retained much of its natural beauty. And with that beauty comes the need for tree services. From tree cabling to height reduction pruning, ornamental pruning, deep root fertilization, stump grinding, tree removal, and much more, Urban Forest Professionals is one of the premier tree services in Lake Oswego assisting residents and businesses to keep their city beautiful. Reach out to us at 503-226-7143 today to schedule your free estimate from one of our ISA-certified arborists.
Check out what Justin had to say about us on Google.
"They did a great job pruning 130+ year old chestnut! On time. Professional. Courteous. AND they put up with all my questions."
5/5 ⭐⭐⭐⭐⭐
And read more of our 194+ reviews on Google.
Or check out our Angies List reviews.
Other Local Services in Lake Oswego:
Landscaping

Natural Landscape and Irrigation
5606 Carman Dr,
Lake Oswego, OR
97035
(503) 675-0471
http://www.naturallandscapeandirrigation.com/

Bernie's Landscape Contractors
17108 Rebecca Ln,
Lake Oswego, OR
97035
(503) 697-3049

Matt Sander Landscape Services
15655 SW 74th Ave Suite 200,
Portland, OR
97224
(503) 747-0305
http://www.mattsanderlandscapeservices.com/

Nurseries & Garden Centers

Kordell's Garden Center
10 Rosemont Rd,
West Linn, OR
97068
(503) 638-1014
http:// www.staffordridgenursery.com/

Marshall Gardens
5775 Jean Rd #102,
Lake Oswego, OR
97035
(503) 944-9970
http://www.marshallgardensonline.com/

Lawn Maintenance

TruGreen Lawn Care
5655 S, Willow Ln,
Lake Oswego, OR
97035
(503) 635-3521
https://www.trugreen.com/local-lawn-care/oregon/lake-oswego/

Scottie's Lawn Care & Landscaping
13901 Sundeleaf Dr,
Lake Oswego, OR
97034
(503) 801-8673

Pool Companies

Pat Pool Equipment Distribution Co
6775 SW McEwan Rd,
Lake Oswego, OR
97035
(503) 639-8744

Haven Spas & Pools Inc
Lake Oswego, OR
97035
(503) 636-5583

SwimCraft of Oregon
14741 SE Arista Dr,
Milwaukie, OR
97267
(503) 209-5032
http://www.swimcraftoforegon.com/

Home Insurance

Mutual of Enumclaw Insurance Co
4000 Kruse Way Pl,
Lake Oswego, OR
97035
(503) 635-6262
https://www.mutualofenumclaw.com/

Mike Patton Insurance Agency
15800 Boones Ferry Rd,
Lake Oswego, OR
97035
(503) 880-0514

Allstate Insurance Agent: Doug DiCola
16325 Boones Ferry Road Ste 209 Ste 209,
Lake Oswego, OR
97035
(503) 635-7765
https://agents.allstate.com/doug-dicola-lake-oswego-or.html

Larry Thompson Agency Inc American Family Insurance
17125 Boones Ferry Rd,
Lake Oswego, OR
97035
(503) 924-2200
https://agent.amfam.com/Larry-Thompson/